Future Ground Network
Use the map below to learn more about what we offer and how we are connected.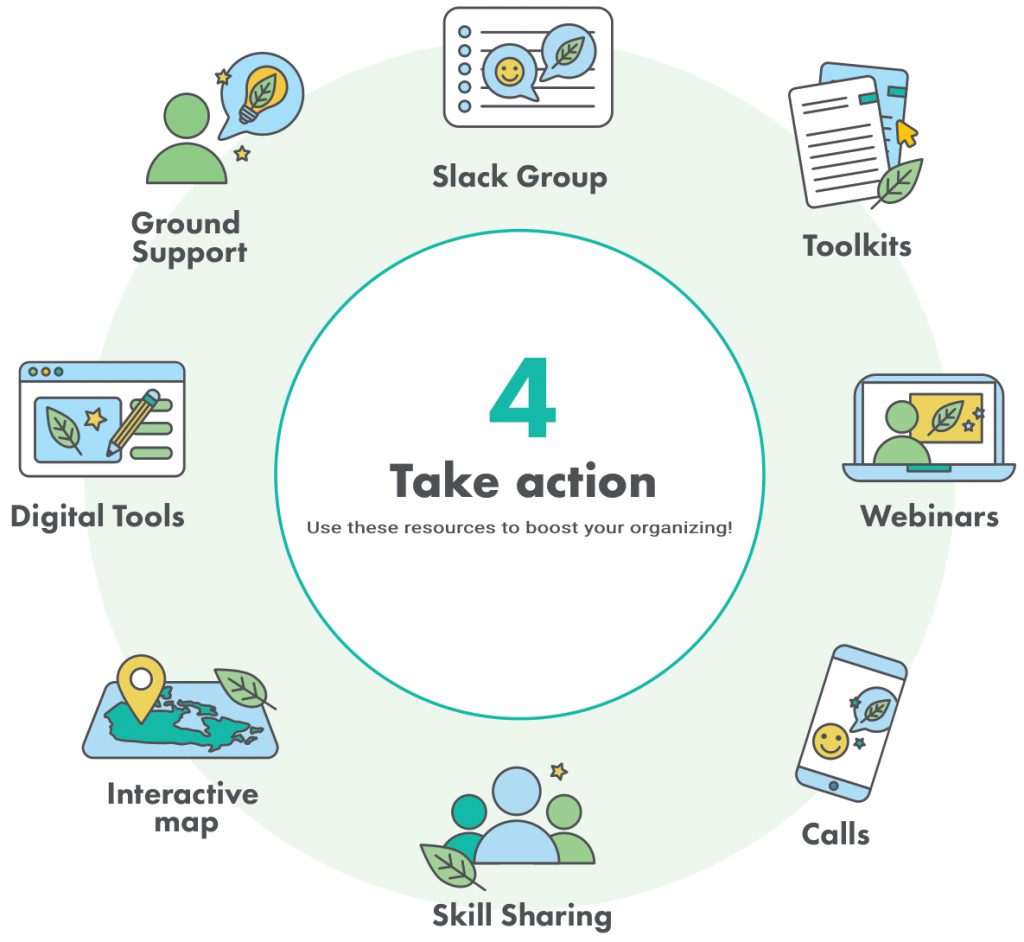 Ground Support
Book one-on-one coaching sessions with Future Ground Network staff and volunteers for live support with organizing, digital tools, communications, municipal climate action campaigns and more!
Slack Group
Join Future Ground Network's Slack workspace to find other groups who are doing similar work, share tips and strategies, and access live support from our Superteam volunteers.
Toolkits
FGN hosts online resource guides on our website to help you and your group organize, campaign and run effective group meetings. Scroll down to find support for the digital tools we offer, such as Slack and Action Network. We also offer some ideas for groups who want to get involved with established campaigns.
Webinars
FGN offers monthly training webinars facilitated by experienced trainers – all recordings are available to member groups. We prioritize topics that are requested by member groups!
Access & Facilitation
How to care for your community, make your organizing more accessible, and more...
Decolonization & Anti-Oppression
How to decolonize your organizing, act in solidarity with the land back movement, create anti- racist organizing spaces, and more...
Media & Communications
How to write a press release, give an interview, use social media for organizing, and more...
Political Advocacy & Outreach
How to engage your elected officials, have conversations with voters, talk to people who don't agree with you, and more...
Strategy & Operations
How to structure your group, establish a board, apply for grants, and more...
Digital Organizing Tools
How to launch an online petition, target your emails, track engagement, and more...
Calls
Connect Calls
We host various calls to bring groups together around common and interesting themes such as Anti-racism, various celebrations and days of action. We'll even offer your group the stage to host a connect call on a topic of your choosing!
Welcome Calls
Future Ground Network offers a lot of perks and we know it can be overwhelming. We strongly suggest that your team join one of these monthly calls to help your group get oriented and familiar with the network.
Skill Sharing
Skilled and knowledgeable "Superteams" of volunteers who offer live support to member groups as needed.
Digital Superteam
Offers technical support with Zoom, Slack and Action Network. Maybe other things, too - just ask!
Grant-Writing Superteam
Offers introductory workshops on grant-writing and helps edit grant applications.
Design Superteam
Designs posters, social media graphics, logos, slide templates and more for member groups.
Communications Superteam
Supports members with social media or media relations (e.g., media interviews and press releases).
Interactive Map
Check out our map of member groups to find other groups who are doing similar work or are based in your region! You'll find the map here on our Join page.
Digital Tools
Zoom
Access a shared Zoom Business account that allows you to host meetings of up to 300 people or webinars of up to 1000 people.
Action Network
We give you free access to the paid version of this amazing digital organizing tool so you can create events, surveys, mass emails, petitions, letter campaigns, and more. Your audience contact info is automatically collected within your Action Network account so you can contact your list of subscribers or download data lists whenever you need to.
Canva
The Network offers you a Canva Pro shared account to create your social media designs, logos or posters.
Are you still feeling a little overwhelmed and confused? That's ok! We recommend going back to stage 3 and registering for a Welcome Call!